Welcome to 1888 Message Study Committee
Due to our desire to be in compliance with an executive order issued by the Governor of Michigan to stay home, our office is closed until further notice. Online orders will be fulfilled as quickly as possible!
In 1888 the Lord "sent a most precious message" that "invited the people to receive the righteousness of Christ, which is made manifest in obedience to all the commandments of God."  "This message" which brings "more prominently before the world the uplifted Savior" was divinely identified as "the third Angels message, which is to be proclaimed with a loud voice, and attended with the outpouring of his Spirit in a large measure." 
- Letter to O.A. Olsen May 1, 1895.  This site is dedicated to the study and sharing of that message.
                  UPCOMING EVENT!
 
UPDATE!!!  UPDATE!!!  UPDATE!!!  UPDATE!!!
The 1888 Message National Conference is scheduled to be held at
Battle Creek Tabernacle
264 W Michigan Ave.
Battle Creek, MI 49037
The dates remain the same: July 8 - 11, 2020.
The conference will be live-streamed as usual. Therefore, we do not encourage travelling from afar as we normally would.
WE APOLOGIZE THAT THERE WILL BE NO CHILDREN'S PROGRAM THIS YEAR DUE TO THE COMPLICATIONS THAT WOULD ACCOMPANY COMPLIANCE TO THE COVID-19 REGULATIONS.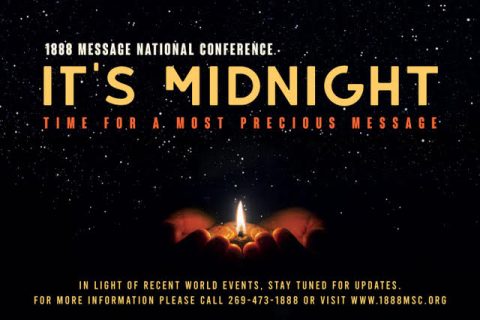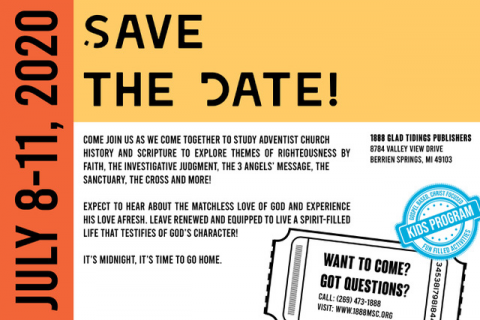 The National Conference is a time when souls who love God, who believe in Christ, and who eagerly grasp for every ray of light, will see light, and rejoice in the truth that we need to keep our eyes directed to Jesus, His merits, and His changeless love for all of us. All power is given into His hands. He dispenses rich gifts unto us and imparts the priceless gift of His own righteousness to us helpless humans. God commanded that this message be given to the world.
COME, expecting to feel the Love of God in all of Its beautiful power, hear about His matchless love, experience your faith and love increase, leave renewed, refreshed and ready to continually live a life before people that testifies to God's living in you!!!
This conference promises to be exciting given the time in which we now live! May the Spirit of the Lord fill us up!!! O come, taste and see that the Lord is good!!!
... He who places himself where God can enlighten him, advances, as it were, from the partial obscurity of dawn to the full radiance of noonday. HP 75.6
CONFERENCE SCHEDULE TO BE POSTED.
PLEASE CHECK BACK FOR UPDATES as events change during the COVID-19 pandemic!